Welcome to The Language Blog!
The Language Blog is where we post articles related to language learning. This is where you'll also find lessons, quizzes and other interesting posts related to our home city of Austin, Texas. Don't know where to start? First things first, check out one of our more popular articles, How to Learn a Language. Ready to create your own Spanish class? Read Spanish Lessons in Austin to learn more about forming your own group.
For those who wish to rapidly learn a language with depth and accuracy, daily application is the answer. Read this post to learn how.
All About Austin
We're fortunate to live and work in the most exciting city in the country. Austin's also the fastest growing city in the country. Businesses are flocking to Austin to take advantage of its abundance of talented youth, its tax-friendly laws and its rich culture. On its list of the 50 Best Places in America for Starting a Business, Inc. Magazine listed Austin at #1. We're particularly excited that our home city is a diverse place where many languages are spoken. Austin, however, is changing very fast in recent years. As a result, there's a constant clash between the new and the old. It all makes this city an interesting place. This part of our language blog is where we write all about our beloved city.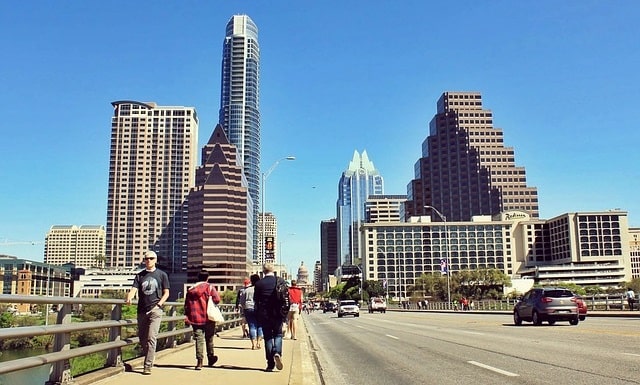 For those who wish to rapidly learn a language with depth and accuracy, daily application is the answer. Read this post to learn how.
The new Google Austin building lease signals yet another large investment of a tech giant in the Capital City.
Is y'all proper English? Well technically, the answer is no. But objectively, there's nothing wrong with it. It's the perfect contraction of "you" and "all." And still no one has suggested a better pronoun to use while talking to two or more people. In my opinion, y'all should say y'all.
How exactly should you pronounce "Austin" while speaking in Spanish. This post answers that question.
English and Spanish are among the hardest languages to learn, but for completely opposite reasons. This post explains why.
Get ready for even more diversity in Austin. The abundance of new Apple Austin campus jobs will attract thousands of people from all over.
In this post, I'm going to explain how to learn a language...in particular, how to learn Spanish. Although it's important to have conversations with people who already speak that language, those chats are not the critical factor towards your progress.
Take a bite before buying the meal - This free introductory Spanish lesson is for those who wish to learn Spanish, but don't know where to start. Get to know the teacher and assess your current conversational level
The ethnic diversity of Austin is one of its strengths. Knowing English and Spanish enables Austinites to communicate with nearly everyone in town. In this post, we are going to provide an overview (below the form) of our Spanish lessons in Austin and offer you a free orientation for you and your staff. Fill [...]
Learning another language is not for everyone. Those who lack the incentive & willingness to do so should probably use their time another way.
Write for The Language Blog
If you're interested in guest-posting for our language blog, contact us at [email protected] Also, please include samples of your work or include links to where we can find your writing online. Thank you!!