Welcome to The Language Blog!
The Language Blog is where we post articles related to language learning. This is where you'll also find lessons, quizzes and other interesting posts related to our home city of Austin, Texas. Don't know where to start? First things first, check out one of our more popular articles, How to Learn a Language. Ready to create your own Spanish class? Read Spanish Lessons in Austin to learn more about forming your own group.
During complex business deals and legal proceedings, language barriers often present a problem. This is especially the case in a multi-ethnic city like Houston. When important matters are at hand and when there must be a smooth exchange between two languages, an experienced interpreter is critical. (tag: spanish interpreter houston) We offer a variety of [...]
All About Austin
We're fortunate to live and work in the most exciting city in the country. Austin's also the fastest growing city in the country. Businesses are flocking to Austin to take advantage of its abundance of talented youth, its tax-friendly laws and its rich culture. On its list of the 50 Best Places in America for Starting a Business, Inc. Magazine listed Austin at #1. We're particularly excited that our home city is a diverse place where many languages are spoken. Austin, however, is changing very fast in recent years. As a result, there's a constant clash between the new and the old. It all makes this city an interesting place. This part of our language blog is where we write all about our beloved city.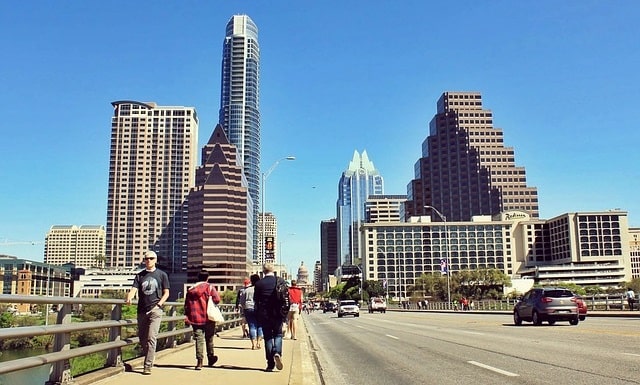 During complex business deals and legal proceedings, language barriers often present a problem. This is especially the case in a multi-ethnic city like Houston. When important matters are at hand and when there must be a smooth exchange between two languages, an experienced interpreter is critical. (tag: spanish interpreter houston) We offer a variety of [...]
As you may already know, there are two verbs in Spanish that express "to be"; estar and ser. The next logical question thing to know is when to use estar and when to use ser. Let's answer this question generally and then we'll elaborate with examples. There's an estar conjugation chart down below...and also a [...]
Have you always wanted to play the guitar? Do you aspire to play professionally? Or do you just want to play for the fun of it? If these sound like your goals, we have a dynamic guitar instructor who will help you to achieve them! (tag: guitar lessons houston heights) "I've been playing for over [...]
Bienvenidos! Welcome to the Pearland page of Prime Instruction & Language. I'm Joseph, longtime director for the school. I'm also the coordinator and instructor for our Spanish classes in Pearland. In short, I help adults to achieve their Spanish-speaking goals with dynamic, engaging lessons. I also serve as a Spanish tutor in Pearland for grade-school [...]
In this lesson, we'll study a few dozen adjectives that are frequently used with the verb ESTAR. Consider that estar is the more temporary way of expressing "to be" in Spanish. Click here for a thorough review on when to use estar. The more permanent "to be" is ser. Both verbs are frequently followed by [...]